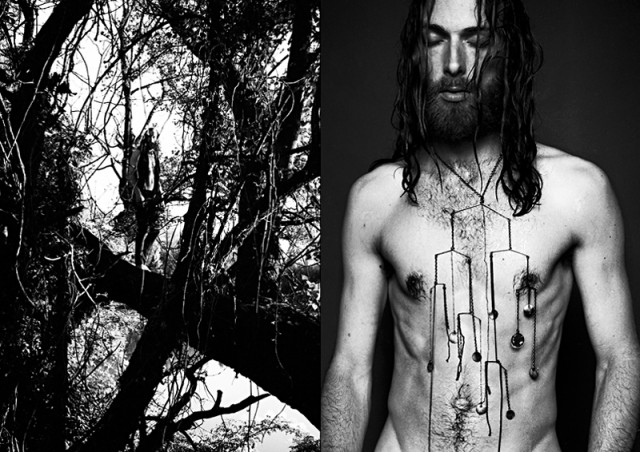 Gallery +
Willeyeam. Photos by Matteo Montanari
William is originally from NYC and he thinks a New Yorker could not live outside the city for long. He tried to live outside NYC when he decided to go hitch-hiking around the USA after finishing high school… Enter to the full story
William is originally from NYC and he thinks a New Yorker could not live outside the city for long. He tried to live outside NYC when he decided to go hitch-hiking around the USA after finishing high school; this made him believe that "the road" is the best place if you want to learn more about life.
I would say that long hair and beard are essential traits for Will, as they testify to his sensitivity towards pure beauty, the heart of nature and the health of the soul. Unexpectedly, during the conversation he showed an interesting dichotomy – complementary to him – in being a computer and technology consultant, when not modelling.
We recorded a normal conversation between two people, rather than an interview.
Elisa. hello… hello get in and then take the stairs on your left.
(Steps)
[Open door]
E: Ciao
William: Hey how are you, nice to meet you! Piacere!
E: I'm good, thank you. Nice to meet you, come in.
(text message)
E: I was calling you cause I got a missed call from you
W: Yeah… I was calling you and then my phone got messed up and I couldn't call anymore until it was rebooted. It's hacked and there are some bugs in the unlocking software.
E: Ah ok. You wanna have a seat?
W: Oh sh¡t where is my pizza? I left it on the wall near my bike…
[He runs to get it]
…
E: You probably would like some beer?
W: Yes, thanks. So, you are a reporter?
[Lights up a cigarette]
…
…
E: Why do you think Marcelo asked me to investigate about Hippies for this interview? Would you say that you are a 'hippie'?
W: You know, I can't say no, but I don't wanna say yes…
E: [laughing] Why?
Well, the hippy thing it's something that's near to me. My mother was totally a hippy, but my mother is not a hippy anymore. Most people who were hippies in the 60′s, when the hippie movement occurred, who were really into it, completely dropped out… They did an about-face and did the opposite, becoming totally normal and not very hippie at all. 'Hippies' were originally, or alternatively, called the 'yippie' movement, and then this word turned into the word 'yuppie.'
[cigarette]
They began to kinda have some animosity towards other hippies as they reminded them of the movement's "failure." They thought the world was gonna change in like 5 years. They thought the whole world was gonna change as quickly as you can take LSD. They thought the world was gonna change that fast, but that's not how change happens. Change happens slowly over time, you know. When it finally hits, it seems like it's fast, but it really takes a long time for change to really happen.
So, they kinda gave up, and to fill their place came a fashion statement. Now you can simply dress like a hippie and people will actually treat you like a hippie. […] But it's not a cultural statement, it's just a fashion statement.
Now, fashion and culture are like art and culture: there won't be change in culture without there being art preceding that change – and fashion is tied to that. Fashion is the most accessable kind of art, afterall.
In that sense, no I am not a hippie. I don't dress like one, I'm big on hygiene, my mind is open, and I'm not angry at the world or hiding behind a hollow construct I call a 'movement.' However, in the sense that I apreciate and agree with the sentiments and effects of the original hippie movement, and wish to see continued movement towards that change, then yes I am a hippie. I think most people in the world today could call themselves hippies, in that sense.
…
…
E: What do you do when you're not modelling? You really seem into new technologies…
W: Well , I do modeling most of the time but I have another hat that I wear, when I have the time. I also do computer and internet technology consulting and set up, manteinance, etc.
…
Photos by Matteo Montanari @ Atomo Management
Styling Marcelo Burlon + Elia Quadri
Grooming Marco Braca @ Close Up
Assistent photographer Raffaele Grosso
Model William B Lewis @ I Love Models Agency
The clothes:
A Waistcoat from Trosman
A Shirt by Rick Owens
A Nike backpack
A traditional Nepalese skirt
A traditional Argentine poncho
A traditional Mexican/Maya blanket
A Givenchy Haute Couture necklace
2 Necklaces by Ann Demeulemeester
A Givenchy by Riccardo Tisci pants
Thanks to Lea T. x her necklaces archive.
Shot in Milan in may 2010